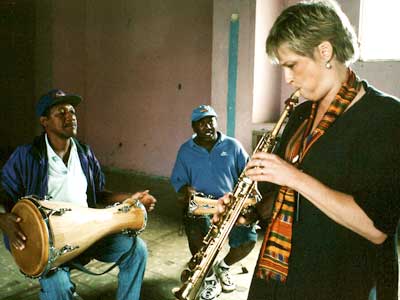 At Hugh's Room last Saturday March 19, Jane Bunnett and friends returned to a standing room only crowd.  They delivered what the fans expected, and then some: a night dedicated to her two big inspirations… the jazz groove, mixed with plenty of Cuban tumbao.
The band included some familiar company for Jane, like husband Larry Kramer on trumpet, and Hilario Duran from Cuba on piano and other jazz and crossover players.
The new ingredient is Iya Ire, a Toronto-based group of percussionists, singers, and dancers.  Iya Ire plays "rumba", the traditional Cuban music from African and Spanish roots.
Latin Jazz is possibly an overused term… you could say it covers a lot of pretty bland stuff by now.  But, you wouldn't say that about this music: the range and spark that Jane achieves playing with Cuban musicians is clearly unique.  It got off the ground a bit tentatively, then by the middle of the 2nd set Hugh's Room was in orbit: really cooking.
It's quite amazing to see how Jane trusts the rumberos to take the ball.   With the Cubans, the tune will often dive into pure Cuban styles, with no compromises. Then the jazz side of the band takes the ball, and they find a jazz inspiration in anything the rumberos do.  Exciting music…
Jane told the crowd that this is just the beginning of her outings with Iya Ire: now there is something to watch for with high anticipation.
By the way, Iya Ire is at Motivo's, 1042 St Clair West, every Sunday afternoon about 4 PM.  This is not tourist rumba, not the corporate event package: it's what you might find in Centro Havana, the real thing.  Rumba from the grass-roots.
How does that happen here?  People like Jane planted the seeds: she brought a lot of great Cuban musicians to town over the years.  From Merceditas Valdes, to Ray Barretto, to David Vireles, to Vocal Desandann… opening the ears, attracting the musicians, building the momentum.